Helen De Michiel
Project Creator, Producer, Writer and Director
Thirty Leaves Production
Helen is a director, writer and producer whose work includes film, television and video
installations. Her 1995 dramatic feature film, TARANTELLA, toured festivals worldwide, wasbroadcast nationally on public TV in 1997-98. Her award-winning documentary, TURN HERE SWEET CORN (1990) was seen nationally on the PBS series POV, and continues to be in distribution to environmental organizations as an educational and organizing tool. An earliervideo essay, CONSIDER ANYTHING, ONLY DON'T CRY (1988) received the "Best New Vision" Golden Gate Award at the 1989 San Francisco International Film Festival. From 1985-90 she was a producer at Twin Cities Public Television (TPT) for the PBS series Alive From Off Center and The Independents. In 2003, she created and produced the media-based installation, PAYING ATTENTION, for the Seeing Exhibition at San Francisco's Exploratorium Museum of Science and Art. THE GENDER CHIP PROJECT, her 2006 documentary about young women who are pursuing non-traditional paths of study in a variety of science, technology, engineering and mathematics fields is distributed by Women Make Movies.
She writes and publishes regularly about film from a maker's viewpoint, and her ground-breaking essay "Documentary As Open Space" co-authored with Patricia Zimmermann, which is included in the new comprehensive anthology of writings on non-fiction film, The Documentary Film Book, edited by Brian Winston (British Film Institute: 2013). From 2001 – 2007 she served on the Board of the most prestigious awards body in the journalism and media field, The George F. Peabody Awards for Electronic Media.
Her films are included in the media art collection/archive of New York's Museum of Modern Art. Her video installation THE LISTENING PROJECT (1994), is part of Minneapolis' Walker Art Center Permanent Collection and won the 1995 "Muse" Award in New Media & Technology from the American Museum Association. She has been the recipient of several NEA Awards and a Rockefeller Foundation Intercultural Film/Video Fellowship, among others. LUNCH LOVE COMMUNITY went online as a transmedia project in 2010, and is now available on demand and DVD with Bullfrog Films.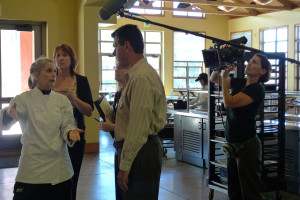 Sophie Constantinou
Project Co-Producer, Co-Director and Cinematographer
Citizen Film
Sophie Constantinou, co-founder of San Francisco nonprofit Citizen Film, has earned international acclaim for tackling difficult topics with artistry and sensitivity. With over 20 years of cinematography experience, her work is guided by the belief that participatory documentary storytelling is a powerful tool for catalyzing place-based change and creating healthy, sustainable communities. For the past five years, she has partnered with Green Streets, a San Francisco-based social enterprise, on an ongoing series of documentary films about waste management, job creation and violence prevention in low-income housing. This ongoing collaboration was the first new media project to receive a prestigious ArtPlace America grant for creative placemaking. In addition to her current work in new media, Constantinou continues to shoot high-profile, visually stunning documentaries for PBS and HBO, including the recent "The Royal Road," "Regarding Susan Sontag" and "Alice Walker: Beauty in Truth."
Jean Donohue
Project Executive Producer
Media Working Group
Jean Donohue is a documentary maker, writer and social media worker. She is a founding member of Media Working Group, Inc., serving as president and chief operating officer. She is currently finishing "The Last Gospel of the Pagan Babies," which documents a 150 year lineage of misbehaving cross-dressers and drag queens in Kentucky.  Her latest films include "Le Sentier du Diamant," about master trufflier Raymond Boris and his biodynamic truffle farm in Lot, France and "Coming to Ground," about how Kentucky is implementing real agricultural change after the environmental and human costs of mono-cropping tobacco for three hundred years. She is working on "The Secret of the Black Virgin," an exploration into the history and origins of the Black Madonnas of Europe, North Africa, Caribbean, Central and South America.
Donohue  has been producing video art and documentaries since 1982. Her work has been seen on BBC 2 and BBC World Service, WNET-NY, Learning/Discovery Channels, Kentucky Educational Television, North Carolina, and Ohio public television.
Mike J. Shen
Project video editor and post-production supervisor
Citizen Film
As a documentary editor, Mike has been nominated for two Emmy Awards. He have fifteen years of professional experience in film and television editing, and has worked on programming for Current TV, New York Times Television, PBS, and HBO. He is currently lead editor at Citizen Film.